The Best UK VPN for British TV in 2023
we used to have a lot of choice over which VPN to choose for enjoying UK Television. There were literally dozens to choose from at all different prices and pretty much everyone would work to some extent. However in 2021 this has all changed and now there's only a few VPN services which will work for the main British TV stations which broadcast online.
Remember to get watching ANY UK television station from anywhere in the world takes only a few steps –
Download and install a reliable VPN (we use NordVPN – cheap and reliable)
Open the VPN app
Connect to a UK server
Choose streaming service or visit their website e.g. BBC iPlayer
Search for your show and enjoy!
What UK television channels are available globally?
Potentially all of them ! Most of the TV channels which are broadcast in the United Kingdom are available online. Indeed arguably watching online is a lot more flexible as you're not tied down to specific schedules. Most people however focus on the few major channels which we'll cover in this article.
BBC iPlayer
For many people this is British TV at it's finest and in fact many people don't look beyond the BBC's wonderful web application
BBC iPlayer is a popular UK television service that allows people to watch TV shows, movies and documentaries for free. The BBC has been broadcasting its content nationally over the internet since the early 2000s. There are currently about 11 channels which are broadcast live over the platform on BBC iPlayer many of them which operate 24/7 including a dedicated news channel.
For parents there's two special channels just for children, youngsters can watch CBeebies and there's CBBC for the older kids.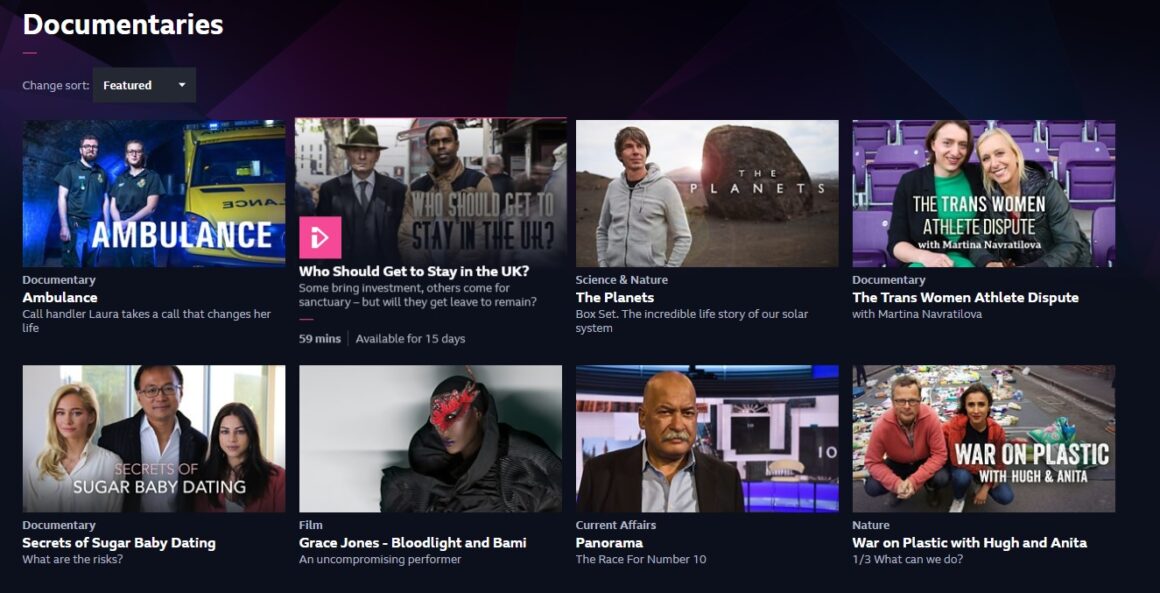 What's also special about the BBC iPlayer is it's enormous archive which is packed full of some of the best quality TV in the world. There are thousands of films, TV shows, dramas, documentaries which can be streamed directly or downloaded to watch on your device.
ITV Hub
The UK's second largest channel is the country's main commercial TV station. Famous for long running shows like Coronation Street and Emmerdale Farm. ITV is also well known for it's world class dramas like Sherlock Holmes and Downton Abbey. ITV Hub streams it's channels live too as well as archiving them although not quite to the extent of BBC iPlayer. There are 6 main channels on ITV Hub and one dedicated to children.
All 4
This is Channel 4s online site and application which like ITV Hub is financed through advertising. You can get rid of the adverts by paying a small subscription fee. You should be careful trying to do this outside the UK though as your payment method will have to be from the UK too. The advertising is not too intrusive on the free version though. Channel 4 is famous for entertainment and arts based shows, there's quite a lot of imported shows particularly from the USA.
My 5
The newest of the UK's commercial channels – Channel 5 broadcasts it's programmes online on this application. My 5 streams all the Channel 5s channels both live and on-demand. the channels include the following – 5, 5 USA, 5 Star, 5 Select and Paramount. Channel 5 has lots of light entertainment shows including reality TV programmes. It also broadcasts a lot of US shows (on 5 USA) which won't always be available on demand for very long.
Sky Go
Sky is the UK's premier satellite channel and has been on the leading broadcasters in the UK for a very long time. They have a couple of free to air channels but the majority are available through subscription. Sky users can access their subscriptions through satellite dishes or through Sky GO online.
If you want to access Sky Go abroad you'll need a subscription and a VPN for the UK. You could previously access in the European Union without a VPN but that was stopped after the UK left the EU.
Other UK TV Broadcasters
There are several other large broadcasters who have a significant online presence. Some are global like Netflix and Amazon Primer, plus independent ones like BT TV. these don't generally broadcast live TV but merely provide streaming services and channels. You'll need a subscription for all of these channels as well as the UK VPN.
However the global channels like Netflix should work outside the UK perfectly but you will receive the local version of that channels based on your location.
What are the best new British TV shows?
Over the years the UK television companies have produced some incredible new British TV shows like: "Peaky Blinders", "Doctor Foster", and "Killing Eve". In truth it's difficult to pick out highlights because there is such a wide variety available on the BBC iPlayer alone.
Whether you like documentaries, current affairs, dramas, comedies or reality TV the UK TV market has definitely got lots for you. There's easily enough just on the BBC iPlayer for a whole family to be kept entertained. All of the UK TV stations have world class production standards so anything you're going to watch will at least be well produced.
It's way too big a topic for this post so check out our other pages – including best detective series here.
What UK Television channels are available globally?
Unfortunately, officially none of the UK based broadcasters are actually available outside the United Kingdom due to rights restrictions. You can obviously see some of the programmes and content on other channels across the world through various licensing deals. However you can't access the TV channels directly from outside the UK.
However there is a solution to watch these 'unofficially', by using a BBC iPlayer VPN. A way to watch all the UK TV channels is through a VPN. A VPN makes it possible to watch UK TV from anywhere in the world. You can watch virtually any UK TV station if you choose the right one, certainly all the major channels like BBC iPlayer, ITV Hub and Sky Go are available.
What is a VPN service?
A virtual private network masks your identity. A VPN service is a software application that runs on a personal computer, server or mobile device to create an encrypted connection over a public network, such as the Internet.
The VPN service creates this encrypted connection between your device and a server somewhere else in the world. This server can be used to access geo-restricted content that might otherwise be unavailable to you. It's because the website or application you use will only see the location of the VPN server and not your actual location.
So you can fool the websites into allowing you access as long as the VPN server is in the right location even if you're in Australia. So for UK only channels like BBC iPlayer you'll need a UK based VPN server, for US only sites like Hulu then you need an American server. Most of the popular VPN services now provide access to servers all across the world in order to facilitate this functionality.
Which VPN should I use to watch British TV on my Device?
You would imagine that this is quite a simple question, you would just need a VPN that has a UK based server for you to use. In fact almost every VPN service of any size would have a few UK servers in their standard subscription. A few still charge by country, so you have to pay extra for US, UK etc but there's not that many of those around any more.
Unfortunately this in 2023 is only half the battle depending on which channel you want to access. Some are relatively simple to access, most of the UK VPNs will work with My 5 for example. Yet the choice is much smaller for the BBC and ITV who actively try and block access from VPN based connections. As a result of this, a large proportion of the VPN services available won't work with the two biggest UK TV channels online.
It takes a decent network infrastructure and an ongoing commitment by the VPN services to keep access open. The BBC in particular works pretty hard to detect IP addresses from VPN servers and blocks them. The key to maintaining access is to make sure lots of addresses are available and to rotate them as much as possible. By doing this the VPN service will be able to bypass the existing geo-blocks and you can watch channels like BBC on your TV from anywhere.
Not all VPN companies are able to do this, it actually takes a lot of effort and resources. However a few still do, but remember they won't advertise this functionality openly !
Here's a little checklist of what you need to look for –
Multiple servers in the UK can increase chances of finding a server that is able to unblock BBC iPlayer.
Server network size is important for connection speeds and data usage.
Fast speeds, unlimited data and bandwidth are also needed for successful streaming of shows on BBC iPlayer
Data usage should be checked before watching an episode
Device compatibility for watching BBC iPlayer on platforms of your choice.
Responsive customer service to help you troubleshoot if you have trouble streaming content on BBC iPlayer.
There are only a couple of VPN services which get even close to providing this sort of service. Our favorite one which we have used reliably for many years is called NordVPN.
Which VPN Service Provider is Best for watching UK TV in 2023
In our opinion, it's definitely NordVPN as they are committed to maintaining access to the large sites. They also have support for most devices to support using a British TV app on all your devices. It's certainly the best VPN for BBC iPlayer as they maintain specific servers just for watching the BBC. If you do try NordVPN always use these servers when you're watching any UK television site – UK# 1840-1847, 1850-1863, 1865, 1869, 1873, 1875-1878, 1880-1881, 1900-1901, 1903-1904, 1911, 1913, 1917, 1919-1920.
Their special deals and offers are always changing but you can find the latest ones in the graphic link above.
What is a VPN Geo Blocker and how are they blocked ?
The main way that sites like the BBC and most of the British TV network are able to block VPN connections is by their IP addresses. Although they cannot accurately detect a VPN connection, they can look at the number of connections originating from each IP address. So if you have two thousand people all streaming the latest episode of Match of the Day or Eastenders then it's highly likely that this is the IP address of a VPN or proxy server.
Why You Won't Find a VPN for BBC iPlayer Free of Charge
This is why the free proxies and VPNs have not worked for years because all of their IP addresses have already been blacklisted and blocked. So to stop this you need lots of UK IP addresses and servers and a support team who will monitor the connections. The trick is to switch addresses before they're detected and ensure that too many people don't use the same IP address to connect to each media site.
This obviously takes some effort and manpower, which is why a lot of VPN companies struggle. Many VPN services are little more than one or two individuals with a network of VPN servers in datacenters. Although this can be enough for many purposes it's difficult to support access to popular media sites like the BBC iPlayer.   To maintain access to watch UK TV abroad takes effort and money from the provider.
Alternative VPN Services for BBC iPlayer
Some of the specialised VPN services like Identity Cloaker will also work fine though. They are a little more expensive but you don't have to share the servers/IP with as many people and so they never get blocked. Don't worry if a service doesn't mention access to the BBC or other UK television site on their websites. This is absolutely essential as the moment they tart advertising the functionality to watch UK television through a VPN they will become targets for the media companies.