Need BBC iPlayer – Want to Watch UK TV in Germany ?
Quick Summary – How to Watch British Television in Germany
Subscribe to a VPN Provider with UK Servers (NordVPN is a Great Choice)
Download the Software for the Device You're Going to Use
Select a UK Server and Connect
Create a free account if you haven't got one
Login to BBC, ITV, Channel 4 etc and Start Streaming (video below if you want to see)
The BBC iPlayer is one of the worlds most popular websites and it's easy to see why. It's packed full of great quality dramas, documentaries, sports and news programmes. With 12 live streaming channels and an archive with thousands of shows available too it's better than most cable and satellite subscriptions. Unfortunately if you try and access the BBC iPlayer from Germany then you'll get blocked automatically.  The BBC doesn't allow people outside the UK to access programmes directly from their website. To get around this you'll need to use a VPN or Proxy server which can hide your real IP address and provide an alternative one with a British location.
Access UK TV Streaming Sites using a VPN
There are many providers out there some who offer short term, monthly and even longer subscriptions. But the best way to find a VPN is simply by searching for one of these words on Google.
Just enter VPN UK or Proxy Server UK and have a search online. This will provide you with a list of providers that allow people in Germany to access sites like BBC iPlayer and many other streaming service packages too. Once you've picked your provider. If you are on a budget then it's worth doing some research to find the cheapest one for your needs as they can differ greatly in price. Usually the cheaper deals are for longer periods, but don't get locked in to something that doesn't work for your favourite TV service.
A VPN Service is a Great Investment for British TV
There's no doubt though that investing a small amount in a VPN is definitely worth it. The amount of free resources that suddenly come available when you can bypass all these geo-blocks is amazing. Even for just UK Television there's a whole world of entertainment available completely free of charge from sites like BBC iPlayer and ITV Hub plus several more. They're actually much better than the many overpriced subscription service packages you can get and they're entirely free when you have access. Plus you don't need a satellite dish even to access things like Sky UK TV, it can all be done online. I watch all the Premiership highlights on Match of the Day every week and enjoy the BBC News coverage on English TV every day.
To Watch UK TV in Germany Like BBC iPlayer then Try this VPN provider
It can sound confusing when you hear all the technical talk about IP addresses, VPNs and proxies. However it really isn't, in fact on most devices it's little more than installing a program/software/app and clicking on a button.
Demonstrating VPN Access to BBC iPlayer
Hopefully this video will show you how simple it is.
So how does this work, well you're simply hiding your location by relaying your connection through a VPN server. Provided that the VPN is located in the correct location it will bypass geo-blocks too. This video illustrates a
VPN provider with many servers in the UK which people in Germany can use to watch BBC iPlayer
and access other services such as Netflix, ITV Hub and more! They also offer a free money back guarantee so you can check it works ok too.
Recommended for British TV Channels – NordVPN
This VPN provider has servers all over Europe so if you want access BBC iPlayer from Germany, or another country outside of the UK which is blocked; then this is probably the best value one available. If you're looking to access services in other countries, you should check that they have servers in the right countries. NordVPN does have servers in most countries across the world, so it's likely they'll have one available for you. If it's a smaller country then you might need to try a local provider, i.e. a VPN company with links to that location.
NordVPN works well with accessing most of the UK Television stations online. Largely because they have lots of UK servers and actively try and ensure that their IP addresses don't get blocked by the BBC. Their servers are also extremely fast and optimized for HD video throughput.
This means no more waiting for videos to buffer or having them constantly freeze up on your screen! Watching British TV Abroad has never been easier!
Click this ad right now for and start watching UK Television over the internet!
Tips on Watching BBC iPlayer
For many people UK television normally means one thing – BBC. The British Broadcasting Corporation is the oldest public broadcaster in the world and has a world class reputation in all sorts of genres. From sports, drama, education, children's and news coverage they are second to none among the English speaking world. The streaming service is called BBC iPlayer and using it you can stream eleven channels live (most 24/7). The archive section allows you to download thousands of programmes to watch on demand – indeed most programmes are available for 13 months after their initial broadcast.
A decent UK VPN service will allow you access to all these programmes however there's a few things you should know before trying to watch.
Many VPNs are Blocked by the BBC
The BBC never used to do much to stop proxies and VPNs being able to bypass their UK only restrictions. A few years ago virtually all of them would work, even some of the free VPN services worked too. This all stopped a couple of years ago when the BBC started actively trying to detect and block this VPN workaround. They were very successful and probably managed to block around 80% of the commercial VPN services.
They did this mainly by looking for over-use, most VPNs did nothing to regulate the numbers on each servers. Unfortunately this meant it was very simple to detect the likely existence of a VPN or proxy service when ten thousand streams were linked to a single VPN IP address. It was a simple task to identify and block access to huge ranges of these IP addresses and effectively stop the VPNs from accessing BBC iPlayer even if they were in the UK.
The VPNs that now work are either quite low key expensive services where very few people use them for watching TV or the bigger ones like NordVPN which actively monitor how many connections are made to the BBC . They also regularly rotate their IP addresses so that they're harder to detect and block. Make sure your VPN service works with BBC iPlayer before you subscribe – none will advertise the fact but if contact support they should let you know.
BBC Account is Mandatory
The BBC iPlayer account used to be optional but they've recently changed this. Now you will need to create and use a BBC iPlayer account every time you watch or download something. This isn't a huge problem but can be a little intimidating if you're trying to stay low profile and watch through a VPN in another country.
You'll need an email address which you can access the replies in order to validate the account. The registration process will ask for your age (to control age appropriate content) and will ask you for your postcode. For this you must input a valid UK Postal code for the registration to work. It doesn't matter if you don't live there – there's no check at all but the post code must be valid. You can grab one online from any UK address – e.g. from a business, hotel or attraction. There's plenty of web sites with large lists of postcodes like UK Postcodes (doogal.co.uk) or there are some you can use on this page.
UK TV Licence
If you use the BBC iPlayer you will be asked if you have a UK TV license. If you live outside the UK then it's extremely unlikely you'll have one as they're not available ! Many people see this screen below and panic thinking they cannot watch without a license even using a VPN.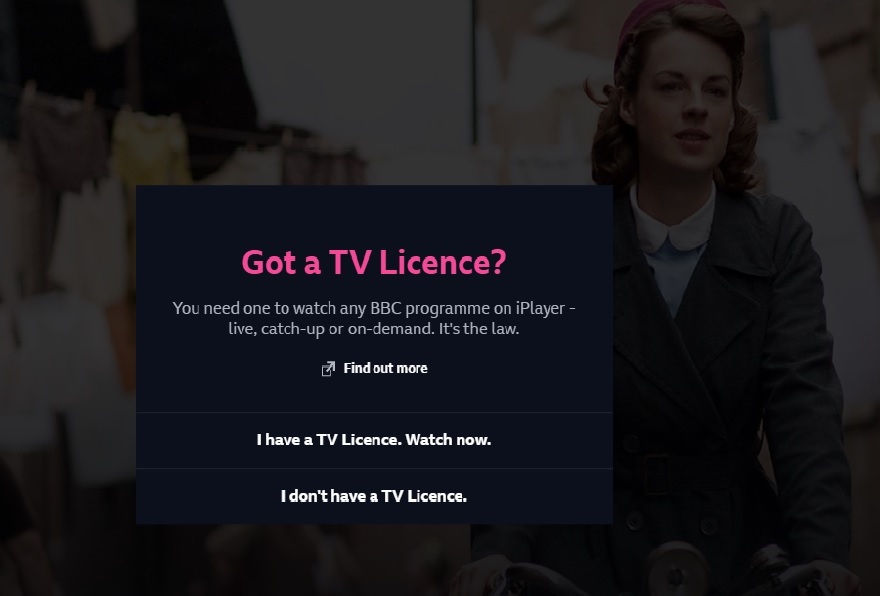 When you see this screen (and you will) then there's simple solution – just say YES ! There's no check, no-one will ask you for proof or a licence number. If you say Yes everything will work fine, if you say No then you'll be redirected to the International version of the BBC site (which has no access to BBC iPlayer).
Watch Shows on Other UK TV Websites
Although the BBC is probably the biggest and best media site in the UK and arguably the entire internet. There's actually some other great TV channels which broadcast almost all their shows online too. The biggest one is ITV Hub which is the UK's largest commercial channel probably most famous for Downton Abbey and the world's longest running soap Coronation Street. Although it's produced many world class dramas over the last decades too some of which are accessible in it's archive. You can find it's online site here – Watch ITV live – ITV Hub. Like the BBC it's completely free to watch although it does have advertising breaks which the BBC doesn't have.
Channel 4 is also a very popular UK TV channel which you can watch online without paying for any subscription. It's one of the biggest channels in the UK and has some great shows including the famous Gogglebox which is on several times a week.
So if you are living in Germany and want to watch UK TV online then there's plenty of ways if you get a decent VPN with plenty of unblocked UK servers.
Switch Address to another Country's Server
Although the UK has definitely got some of the best TV channels that are available online, there are plenty of other TV channels. Remember the vast majority of TV broadcasters limit free access to their domestic market. However if you switch your VPN connection to another country you can unlock these too.
So once you've used your VPN to access BBC iPlayer and other UK TV stations from Germany, or Spain or France then don't stop there. If you connect to a different country then you can unlock media sites in those countries too! Try using a US server to access sites like Hulu, CBC, NBC and many others. There are some great English language media sites in countries like Australia, Canada, New Zealand and Ireland too. Simply click to select the appropriate country before you try and access the sites.
Also remember you can connect to a German VPN server to maintain access to German only sites when you're travelling.
Install On All Your Devices
Most of us watch TV on all sorts of different devices in 2022. Whether it's a phone, tablet, laptop or smart TV. Whatever your preference you should check with your VPN provider that it's supported on that physical device.
The support for different devices varies greatly from VPN providers. Some provide software only for installation on windows computers and laptops, while others try and provide installation options on all devices.
Installing on computers (PCs and laptops) are definitely the most straight forward as almost every VPN company will either provide VPN client software or instructions on how to create the connection. The bigger VPN companies will provide apps specifically for installing on phones and tablets.
Games Consoles, Smart TVs and Media Devices
These are generally the hardest devices to use VPNs on generally because there's no way to either support the VPN connection or install the client software directly on. The best way to watch UK TV on these using a VPN service is to use something called SMART DNS. This is an alternative to using a VPN for devices where you can't install any software.
It works by changing your DNS servers to specially configured Smart DNS ones. These then are used to route your internet connection through an intermediate server (like the VPN) in the required county. So for example if you tried to access the BBC iPlayer from a Smart DNS enabled device your connection would be temporarily routed through a UK VPN server. It's the only simple method to enable watching BBC on your TV without casting from another device.
Smart DNS is available for free with a standard NordVPN subscription or a few companies like SmartDNS proxy specialise in this solution.
Summary – How to Watch British TV in Germany ?
Well basically if you want to watch UK TV in Germany then you'll need to use a VPN to bypass the geo-restrictions. These exist on all the large UK TV sites but a connection to a UK VPN can bypass them easily.