Where to Find a Fake London or UK Postcode to Watch BBC iPlayer Abroad
However, if you need a fake UK postcode then you really shouldn't be worried it's not a problem. Don't go looking to buy one as that's really not required. Now, lets take a look at some of the myths around watching the BBC from outside the UK.
You Need a UK TV License to Watch BBC iPlayer Online
It's true that before you start to stream any video content at all on the BBC iPlayer site you will be asked if you have a TV license. It's a simple question but one that has a huge impact on your ability to enjoy the BBC online !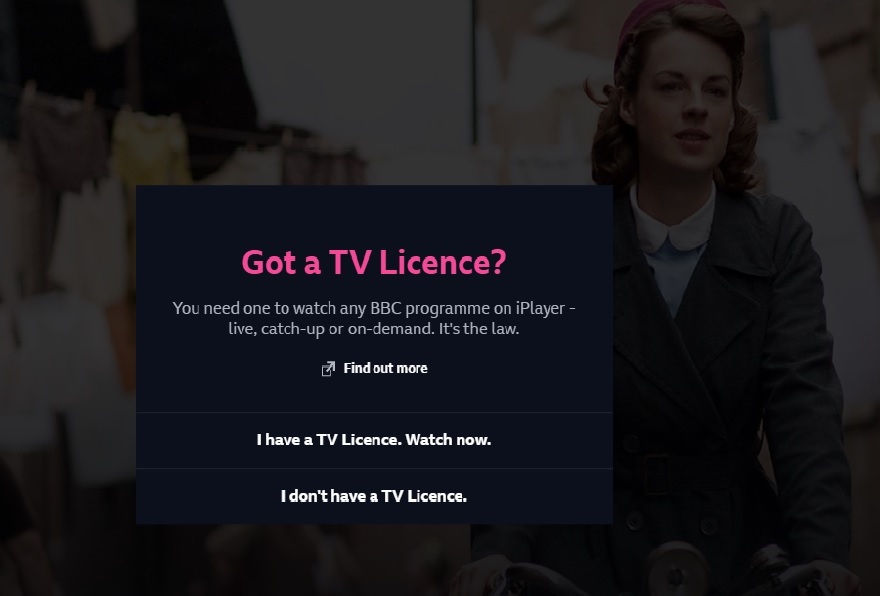 As you can see it's not complicated – there are only two options to select from, and it should be very obvious one you need to pick. Surprisingly though many people are far too honest for their own good and will often answer – "I don't have a TV license". Unfortunately however accurate this is, it will mean that you won't be able to watch the BBC at all. Worst still there is no legitimate option offered to purchase one either – if you're outside the United Kingdom you can't buy a UK TV license anyway.
Don't worry it's easily fixed, just leave the site reset your cookies or reboot your device and have another go.
However this time –
Just Say Yes, I Have a UK TV License !
That's all there is to it. If you're outside the UK then it's likely it's not true, unless you're on holiday or travelling. There's an important point to remember here though, there's no check or validation on this question. There's no check made or validation that this is true at all. Just say you have a UK TV license that's all that is required.
It's frustrating to see how many people just give up at this stage as it's really not necessary as long as you can cope with this little fib ! One day perhaps it won't be necessary. Maybe in the future perhaps when you click on No – you can be taken to a place where you can buy an international version of the UK TV license. At the moment all that happens is you'll get blocked.   So you know what to do if you want to watch the BBC on your TV outside the UK.
Cannot Create a BBC iPlayer Account Outside the UK
The other issue we're seeing here is people think that you can't create a BBC iPlayer account remotely outside the UK as they don't have a UK postcode. This again is not the case, and it's relatively easy to do – but just for clarification consider the following points –
You need to hide your physical location.
You'll need a valid email address.
You'll need a valid UK Post code
You'll have to pretend you have a UK TV license !
It's not difficult and everything is available for free apart from the first point. For this, you'll need something called a VPN to hide your physical location which we'll explain later on in this article.
Needless to say, if you have your VPN turned on simply register for an account and input an email address. You'll then need to confirm whether you're over 13 and then enter a few details. This will include inputting a UK postal code.
BBC iPlayer Fake Postcode
Now if you're sitting on your balcony with a glass of wine and your laptop, enjoying the sun dipping down over some exotic location. It might seem that producing a UK Postcode might be difficult.
Well it's really not, for one very important reason – there is no check about whether you're actually linked to that postal code or not. Indeed, the only check is to ensure that postcode is a valid UK one and that's it.
Indeed if you used to live or work in the UK then simply use the postcode of your old address whether work or home – it doesn't matter. If you don't then there's no need to look for anything complicated. Just search online and pinch the address for literally anything in the UK – a hotel, a shop, supermarket, football stadium or whatever. So it's not really a fake postcode you need, it's a real one to use!
Not Fake – Real UK Postcodes
If you can't think of one or remember a post code to use, then there's another option ! Try one of these from this article about finding fake postcodes for BBC iPlayer.
Anyone will do – here's a few samples from that page.
Manchester Postcodes
M1 1EW M1 1EX M1 1EY M1 1EZ M1 1FA M1 1FB M1 1FF M1 1FH M1 1FJ M1 1FL M1 1FN
London Postcode for BBC iPlayer
West London – W10 4HF W10 4HH W10 4HJ W10 4HL W10 4HN W10 4HP W10 4HR W10 4HS W10 4HT W10 4HU
Cheshire Postcodes
CH1 1GY CH1 1GZ CH1 1HA CH1 1HB CH1 1HD CH1 1HE CH1 1HF CH1 1HG CH1 1HH CH1 1HJ 
BBC iPlayer/ITV Hub Local Content
For most people it doesn't matter which one you choose – you can access the same TV channels and programmes. However there is one small difference, both channels will place you in the matching region of the postcode you input.  It has more effect on BBC iPlayer than ITV Hub because it has more regional variations, you can pick any UK postcode for ITV.
All this means is that you'll get local news and weather to match the postcode you've inputted. So if you want to watch news in a specific area you should find a postcode in that area too. You can switch regions though later so it's not hugely important either.
VPN for BBC iPlayer and ITV Hub
The last component in our quest for the BBC or ITV online is probably the most important. Without this you will fail at all hurdles including creating the account, logging in and streaming any one of the channels.
But again, don't worry it's not complicated and you don't need any technical knowledge. In fact as you're reading this literally millions of people are doing exactly the same to watch their favorite TV channels. This includes a sizeable population of retired ex-pats on the Costa Del Sol watching Match of the Day on Saturday night..
VPN Hides Your Location
The real problem with watching restricted sites like the BBC iPlayer is that they can automatically identify your location from your IP address. This unique network number can be easily used to identify where you are physically located. What's more you have little control over this IP address as it's assigned by whatever gateway is allowing your access to the internet.
Fortunately although you cannot change this IP address, there is a simple service which can be used to hide it. The best solution is to use something called a VPN, just pick one you like. Then you can use it to hide your location to any website that you visit from abroad.
Here's one in action called NordVPN –
As you can hopefully see it's very simple to use one of these VPN services. You don't need to know anything very technical and there's lots of help available if you pick a decent provider. Sure you have to pay a small subscription but considering it will unlock websites across the world quickly and easily for any user.