Season 6 of the BBC iPlayer Thriller 'Shetland' – Begins October 2021
The dark side of one of the most beautiful places on earth. The detective-noir mystery Shetlander our hero Jimmy Perez returns home, reopening secrets and lies from his past.  It's certainly one of the best British detective series from recent years and has some stunning scenery among all the murders !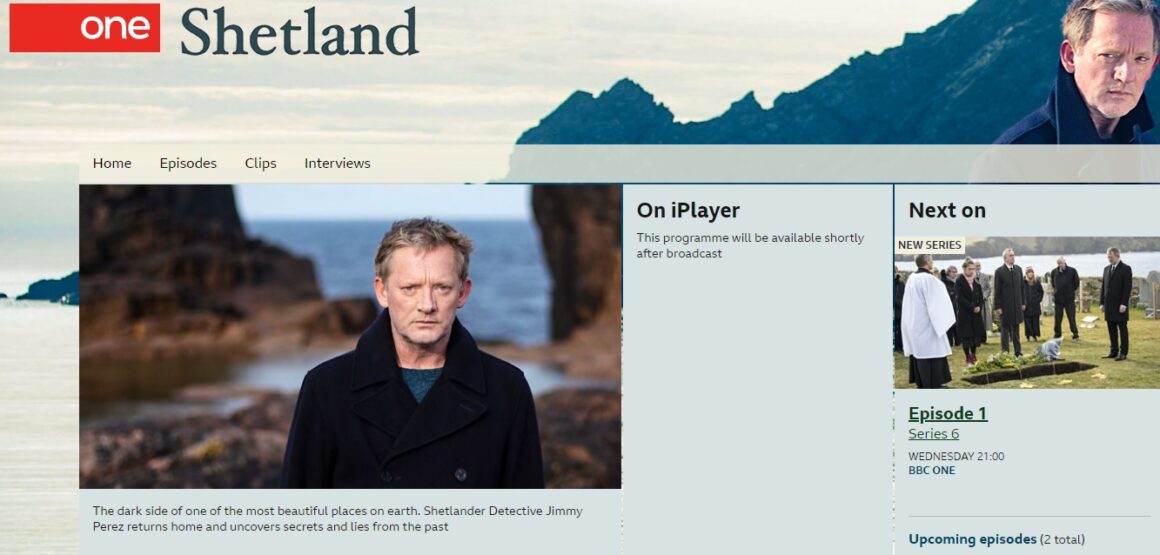 What is The Shetland drama series?
The BBC Drama Shetland is a crime drama, that has received critical acclaim since its first broadcast.
The show follows DI Jimmy Perez and DS Josh Murphy as they work to solve various crimes in the fictional Scottish town of Lerwick.
If you're a fan of the BBC Drama Shetland, here is some information about it and more:
– It's not all on BBC iPlayer at the moment but keep an eye out in case it pops back on
– The crime rates in real Shetland: One of the lowest in the world
– It's a crime drama that has received critical acclaim since its first broadcast
Trailer: Shetland – Series 6
The hit BBC One show, "Shetland," is delaying its season 6 release until October 2021. This will be the first time since 2019 that fans of the show won't have to wait for a new episode.
Series 6 of Shetland is finally back on BBC One and it's a murder mystery set against the stunning Scottish backdrop of the Shetland Isles. Douglas Henshall returns as DI Jimmy Perez in "Shetland" season 6 and he has an intriguing case to solve with Tosh and Sandy in tow.
What can we expect in Shetland series 6?
The sixth season of the award-winning BBC One drama, Shetland, will be released in October 2021. The new series will be directed by Max Myers (Get Even) and Siri Rødnes (A Gambler's Guide To Dying), with Douglas Henshall reprising his role as DI Jimmy Perez alongside series favourites Alison O'Donnell, Steven Robertson, Mark Bonnar, Erin Armstrong, Anne Kidd and Lewis Howden.
The forthcoming new series centers on the doorstep murder of a prominent local figure. In the upcoming season, we can expect a murder case to strike at the heart of Shetland Isles and its people. Perez and his team will uncover a kaleidoscope of motives for this murder, including new suspects.
The investigation also takes an unexpectedly sinister turn with some shocking revelations that might just shake up our understanding of who's behind it all!
How many episodes will there be in Shetland series 6?
The Shetland series will air on Wednesday nights at 9pm in the primetime slot. There are six episodes like all the previous series. The finale of season 6 is set for November 24, 2022.  You can watch the episodes on BBC iPlayer using your TV or computer as the episodes are aired then for 11 months afterwards.
Watching Shetland from Outside the UK
If you want to watch Shetland from outside the United Kingdom obviously, you'll have some issues.  If you do, try and stream from the BBC iPlayer it won't work unless you hide your location.  It's not difficult though and you can easily use a simple VPN like NordVPN to watch BBC iPlayer from anywhere in the world.  By connecting your VPN to a UK server, you can watch any UK TV from France, Spain indeed anywhere in the world.   Distance is no object! You can easily use it to watch British TV from Canada or Australia.
Your actual location is irrelevant because it's hidden by the VPN connection.  You can watch any of the UK TV channels including the ITV Hub merely by ensuring you have a UK connection.