Updated August 2021
You might be surprised to learn that the BBC's website is actually restricted outside the UK.   This means that all the other channels are covered by the same restrictions too including CBeebies.   To be fair a lot of the content on the CBeebies site is actually blocked by broadcasting rights outside the control of the BBC.  Probably because children's TV has a lot of commercial value and there's still money to be made with DVDs, Blue rays and selling rights to other broadcasters.
The revenue would obviously be reduced if the BBC was made accessible for free all over the world.  In addition there's obviously a cost to streaming video across the internet to millions of viewers.  It's a cost that is paid directly by the BBC's license payers, the majority of whom live in the UK.  There's been a number of attempts to provide access to the BBC's online programmes abroad, yet none have really succeeded as yet.
However if you're venturing abroad or already spend some time outside the UK and you have toddlers to entertain then access to CBeebies can definitely make your life an awful lot easier.   There's two main parts to the CBeebies web site – the games and educational section plus the video section which includes live streaming up until 7:00 PM plus the vast majority of shows in the BBC iPlayer archive – here's the site URL – https://www.bbc.co.uk/iplayer/live/cbeebies
This is literally a tiny selection of what's on the CBeebies site, literally thousands of high class entertainment and educational programmes for toddlers.  Peter Rabbit has saved my sanity on more than one occasion.  Needless to says it's an absolute goldmine for any parent who has toddlers and needs something for them to watch occasionally.
How to Watch CBeebies Online Abroad
So although technically if you're outside the United Kingdom you're not able to to watch any of the BBC's online content, the simple fact is that millions actually do.   There are some reports suggesting that more people watch BBC iPlayer from abroad than actually in the United Kingdom.   So how is that possible, well it's actually very simple.
When you visit any part of the BBC website, the first thing it does is look up your IP address and check where it's registered.  If the IP address is not recorded as being in the United Kingdom then you'll be quietly redirected to the international version of their site.  This is not bad, but actually contains none of the TV programmes at all.  If you persist and try and watch something from the BBC iPlayer either live or through the archive – you'll just be blocked and told that it's not available outside the UK.
Fortunately there is a method to watch CBeebies and you can see it in this video – (discount for software here)
It's actually quite simple and it's a method that many of us have been using for many, many years.  The process simply involves hiding your real IP address by connecting through an intermediate server.  In this case it's a VPN server which is based in the United Kingdom.  The crucial factor is that the BBC will only see the IP address of the server and have no direct contact with your computer.  Which means as long as the server is in the UK then you'll effectively have a British IP address and the entire BBC website will work perfectly.
Enjoy More than Just CBeebies Shows
What's more while you're connected to the UK server then all the other British TV sites will work too.  As any British parent knows there's lots of other kids programmes on ITV and Channel 4 and 5 too.  All these are normally blocked but work perfectly through a UK proxy server of some type.
Now if you're searching online you may become aware of posts informing you that this method doesn't work anymore.  This is however not completely true. A couple of years ago, the BBC cracked down on these methods and closed down a host of the VPN services – mainly the ones who overloaded their servers or were not discrete enough in their advertising.  As a result lots of people's VPN services stopped working particularly with the BBC.  The corporation have since calmed down a little and returned to their previous state of only blocking the particularly amateurish VPN services who overstep the mark.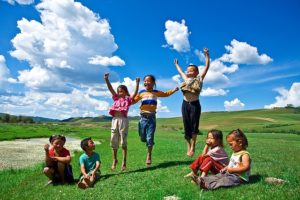 The reality is that millions of people use the remaining VPN services to watch the BBC wherever they are.  Indeed the vast majority of ex-pats use these services to access UK only websites when abroad.  Plus their are thousands of English speaking TV fans who love the BBC and of course those of us on holiday.  The CBeebies channel is certainly a huge asset for parents plus having access to the BBC online is great for everyone else too.  Remember a decent UK VPN server doesn't only give access to the BBC but all of the UK TV stations wherever you happen to be.  I'd be lost without it and especially when Test Match Special is on !
Of the VPN services which survived after the BBC purge, there are fortunately still quite a few decent ones.  Be careful of the very cheap ones, as they tend to overload their servers which means you can access the BBC but it's slow and buffers a lot.  Also be wary of any company which openly advertises the facility to watch the BBC using their service – they are inevitably targeted by the BBC legal department eventually.
Choose a fast, discrete security service which you know has plenty of UK servers to maintain speed and throughput.  My personal recommendation is a service I've used for over a decade now to stream the BBC from all over the world.  It's well worth the small subscription to give you access to all the BBC live and iPlayer content.
It works on computers and it also has apps for all your other devices like tablets, iPads and Smartphones – just ask support for instructions. Here's my recommendation – it's called NordVPN and was demonstrated in the video above.   Give it a go and within minutes you can get access to some of the world's best children's TV programmes.  You won't regret it.
Update July, 2020 – got a couple of emails regarding the new BBC iPlayer sign in requirement.  There's nothing to worry about and you can still watch CBeebies online and the rest of the BBC from anywhere.  You just need to create an account whilst connected to a UK server. Use any email and make sure you put in an address with a UK postcode.  There's no checks with this it's just so the BBC can keep track of your account, where you are in a box set and so on.