Instructions on How to Watch UK TV in Canada
If you want the simple explanation how anyone can watch UK TV from Canada-
Sign up for a decent, good value VPN like NordVPN
Connect to one of their UK servers (see note about which work best with the BBC)
Sign up for an account if required (BBC and ITV Hub) with any email address
Enjoy all the UK TV channels anytime you want.
British TV Channels Have Excellent Streaming Services
Every UK TV channel broadcasts the majority of their programmes online. The BBC iPlayer for example streams every channel live 24 hours a day. So if you want to watch anything from David Attenborough's latest documentary or the BBC News you simply have to logon to the site. Obviously time differences can mean it can be difficult to watch some shows, Canada is roughly 5 or 6 hours behind the United Kingdom. Yet for most shows you can also pick them up in the huge archive – most of the BBC's shows are stored for 12 months online for anyone to watch.  The only exception are shows like the BBC News and Match of the Day which you'll normally only be able to watch live.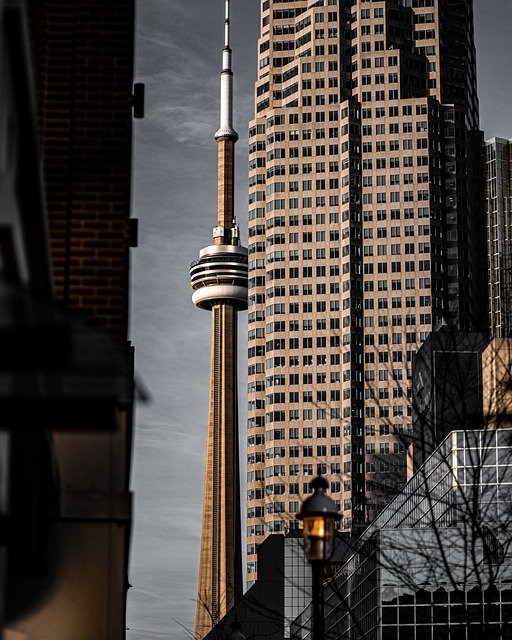 The BBC set the standard for online media sites and has been providing free access to UK citizens to watch British TV for many years. As long as you're in the UK and can confirm you have a UK Television license then you're able to watch for as long as you like. There are no adverts or interruptions apart from a few trailers before you choose a new show to watch. Just like the BBC iPlayer ITV has developed a huge online presence with both live and archived shows too. So when the new series of Downton Abbey arrives you'll be able to stream it directly from the ITV Hub.
The other UK TV channels are perhaps not quite as well known as iPlayer yet with the right set up offer a whole host of great TV shows too. The most popular are probably All 4 and the Channel 5 site plus the subscription channel Sky Go but there are many more streaming services available where you can enjoy British TV.
So Can I Watch British TV in Canada ?
Unfortunately as you probably know there is a complication, if you have ever tried to access any of these sites then you'll know they don't work directly from Canada or other countries. If you try from a computer or Smart TV in Canada then you'll simply be blocked and see something like this –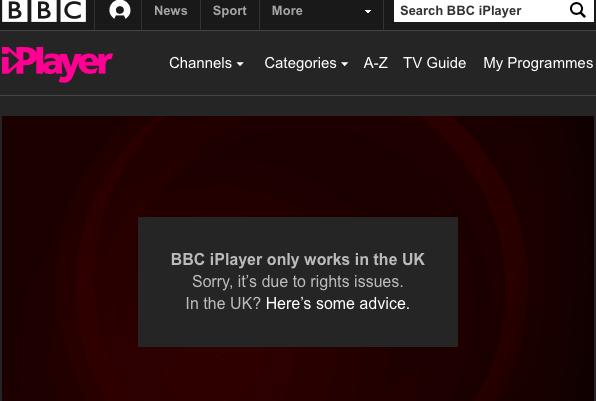 Connection to the BBC from Canada
The reason is that all of these sites operate something called geo targeting, which means they check your location before you access their site. Indeed all online TV sites do this and restrict access to their domestic viewers – so you can only watch US TV in the USA, British TV in the UK and Canadian Television channels from Canada.
It's extremely frustrating to see a global communication medium like the internet have artificial blocks, barriers and filters yet it's happening more and more. Basically your IP address controls what you can watch, it doesn't matter where you're originally from only where you are located when you try and access the site. So that a British Coronation Street fan or someone wanting to watch the BBC One News will have no access if they're currently outside the geographical borders of the United Kingdom when they connect.
You Can Watch BBC Shows in Canada (plus ITV too)
There are of course some home grown options to access British Television programmes in Canada. Indeed many shows are available on other platforms and licensed to Canadian TV channels. However the simplest and by fast the most cost effective method is to use something called a VPN which can hide your IP address and make it look like you're a resident of the UK. By connecting to a UK server you will have access to all the UK TV stations online in exactly the same way as anybody in the United Kingdom would have. So free access to the wonderful BBC iPlayer, ITV Hub, All 4 and Channel 5 too. Using a VPN is the simplest way to watch British TV and probably the cheapest too – just an inexpensive subscription to the right security program unlocks all the channels.
Using a VPN Server to Stream UK TV
Here's how easy it is to do using Nord VPN discount page here.
Server Hides your Location from TV Sites
As you can see, the TV stations see the IP address of the VPN server and can't make out your real location. As long as you connect to a UK VPN server the best VPN services will allow you access to the BBC iPlayer, ITV and Channel 4 plus all the other UK content normally restricted to a UK visitors. In fact the web is actually full of these geo restrictions and a VPN will bypass them all. This is why there's a huge increase in the number of VPN providers, as the market grows.  Virtually every UK expat has a VPN and those from other countries too!
If you don't have access to a VPN server then you're effectively blocked from some of the best media sites on the internet. Geo-blocking and targeting is becoming much more prevalent across the internet. What's more it's also being used in other sites too including to charge different prices. Airlines are starting to offer different prices depending on your location in order to maximise their profits. Sneaky but true ! A VPN can help you switch countries to find the cheapest prices, although beware they also can use source of payment to check your location in some instances too.
UK TV Sites Need Accounts
Are there any other catches ? Well you need to set up accounts on each site to watch them, but they're entirely free and there's no checks or anything. You will be asked for your post code (like a zip code) but as long as you put in any valid UK one you'll be fine. Just grab any address from online or from here – Random Postcode Generator (doogal.co.uk). The BBC will also ask you if you have a valid UK TV license before watching, there's no verification though so just say yes !
Most of the other sites do the same, although only the BBC asks about the TV license. Currently all the accounts are free but you can get a premium account on ITV Hub which basically removed all the advertising breaks. The BBC iPlayer though has no advertising anyway apart from a few trailers for it's own programmes.
Unlock TV and Media Sites Across the World
There's no doubt that the UK has some of the best online streaming sites. Indeed there's thousands of programmes to watch on the BBC iPlayer site alone. There's eleven channels most of which broadcast live 24/7 and the majority of programmes are available for twelve months after to stream on demand from the archive. The other TV sites like ITV Hub , Channel 4 and 5 are all very good too.
However if you choose a decent VPN like NordVPN then you don't need to stop there. If you switch countries you can find loads of other great online TV channels in different places too. There's loads of brilliant media sites in the US which are accessible for free to domestic customers too.
Switch your VPN to Whichever Country you Need.
To explore other country's TV sites simply pick another country when you connect to your VPN. The NordVPN subscription includes servers all over the world in over 60 countries. Simply click on the country you need before you open your browser and that is normally all you need to do. Most media sites rely simply on the IP address location to restrict access, so a VPN will bypass these without any problem.
There are some channels which do a little more though. For example some Canadian TV channels also ask for your cable provider or customer number before allowing access – this is not that common though. There are some great English speaking TV channels in the US, Ireland, Australia and New Zealand that are all available for free simply by switching your VPN connection.
If you're lucky enough to speak another language then there's even more choice. There's some great TV channels all across Europe full of great content including blockbuster movies and top TV shows. It's also a great way to find premium sports coverage for free if you search around.
The beauty of using a VPN server to be able to watch the BBC and other UK TV sites is that it works from anywhere in the world. Indeed the best VPNs also give you access to a whole network of servers all across the planet so you can access other TV shows too. For example French speakers will definitely enjoy M6 Reply which is an excellent French TV station, instead of choosing a UK server then pick a French one to access the website. So don't restrict yourself to just watch British TV there's a whole host of great TV shows you can watch in lots of different countries outside Canada.
Additional Functionality from VPN
My favorite security program which works really well for watching UK content is called NordVPN as demonstrated in the above video. It has applications for phones and tablets which you can install directly on to each device. You can normally install on multiple devices on a single account. NordVPN allows installation on six supported devices for each subscription.
Access on Additional Devices
Sometimes you may want to install on another type of device which you can't install the VPN client directly on. For example something like a media streamer, smart TV or even a games console. In these circumstances look at using a system called Smart DNS, which you can utilize without software and just changing your DNS servers. There's an option for doing this with your NordVPN account or there are specialized providers like SmartDNS Proxy which provide this service too.
Speed and Security
When you use a VPN you're effectively adding an extra 'hop' in your intern journeys. Basically everything will get routed in and out through the VPN server when it's enabled. This completely hides your location and allow you to bypass geo-blocks but it can potentially slow your connection down. This is why it's so important to find a fast VPN service to minimize the impact.
The best VPN services will have virtually no impact on the speed of your connection at all. This is why the free VPNs are fairly useless when it comes to streaming media of any sort, they are so slow that the stream will buffer every few minutes. Also remember that these free services don't work with the major media sites like BBC iPlayer, ITV and Hulu etc as they've all been blocked automatically.