Want to Watch UK TV in France Online ?
Don't mess around with dodgy quality IPTV accounts or bulky satellite installations. You can watch BBC iPlayer and all the British TV sites online on any device including your Smart TV. Here's how you get started.
Summary – How to Watch UK TV in France
You need to hide your real location
Subscribe to a VPN Service with British servers (NordVPN is cheap and reliable)
Download the correct version/app for your device
Connect to a UK Based Server
Create a free account if you don't have one (confirm TV license and use any Valid UK Postcode)
Stream directly from BBC iPlayer, ITV Hub and Channel 4
Disconnect the VPN or change back to your location when finished.
Losing your English TV Channels
It's only a few miles across the English Channel but when you cross over to France many things obviously change. There are the obvious things like the language and great food everywhere of course, however some changes are less expected. One of those is the internet, after all why should a global digital medium change just because you travelled a few miles over a stretch of water. The truth is that the internet does change when you cross a national border and sometimes it's quite significant.
Of course, if you travel into China or North Korea you'd expect your internet access to change or indeed virtually disappear. Yet the sad fact is that even crossing into France will significantly affect what you can do online. France doesn't implement much in the way of internet filters, but the reality is that many of the biggest web presences will alter significantly depending on your location.
For UK Television lovers the first huge change they notice is that suddenly they are unable to access UK TV sites like the BBC iPlayer or ITV Hub. In fact all the UK Television sites are inaccessible from any country outside the UK even France, Spain or even the Republic of Ireland.
How to Watch British TV in France – It is Possible !
Fortunately as the barriers are raised for English speaking visitors to France, so the internet provides a solution too that will allow people to watch British TV. That is without having to mess around with a satellite receiver (getting a satellite dish installed in France can be somewhat of a challenge in many places). The method used by these sites (and indeed thousands of others across the world) is called geotargeting and involves looking up where the IP address you connect with is registered. This address is something that you can't really control directly, however you can hide your real address.
Here's how you can enjoy all the UK channels using a VPN
In this demonstration we're using a service called Nord VPN.
As you can see it's relatively simple, to watch UK TV in France all you have to do is route your internet connection through a server in the correct country. So in the video we choose a server in the United Kingdom and suddenly all
UK TV channels
online are available. It gives you access to the BBC one both live and through BBC iPlayer,
ITV Hub
, Channels 4 and 5.  So you can enjoy your favorite programmes wherever you are – I use it to watch the BBC News and
Match of the Day
every week.
Indeed it will also allow you to access subscription channels, so watch Sky Go Abroad and Now TV from anywhere too although you still need a subscription.
Where's the Free Service ?
Yes it does cost money, simply because the servers, support staff and bandwidth come at a cost. People do ask if it's possible to watch British TV online free in France, however it's a dangerous route to tread. There are a couple of free VPNs available but they're not really free. They just make money from you in different ways. The free VPN companies either fill your computer with adware/spyware to generate their income that way, or they resell your internet connection to 'premium members'.
They can cause you all sort of computer problems and all are very slow and painful to use and in fact none of them work anymore anyway. The BBC in particular is very adept at spotting VPNs and have long ago blacklisted all the free options anyway.
The only safe, reliable free method is to use a trial option – you can find the only 'decent free one available' listed at the bottom of this page.
Not Just British TV in France – Any Site, in Any Country
It is important to remember that when you're connected to a VPN in a different country then your entire internet experience will be based on this country. So if you use a search engine while connected to a UK VPN server then all your search results will be UK based irrespective of your actual location. The ability to switch between different countries can be extremely useful especially if you travel a lot. For example you can use the VPN connection to access all sorts of sites not just British TV channels, for example I use it to access my home banking and to place a bet on Betfair both which are not normally accessible from outside the United Kingdom. Most of these services offer lots of countries so use them, don't always get stuck and just watch British TV online – try some other stations.
Stream from Hundreds of Sites All Across the World
You're not limited to switching to the UK either, most VPN services provide lots of countries you can switch to. Certainly never subscribe to a service which charges or limits you to specific countries. Try switching to a US server and access all sorts of fantastic media sites restricted to US – Hulu, HBO and ABC all have some great content available online. If you get blocked on YouTube from watching a specific video, simply switch countries and try again.
One brilliant use is to enable a US VPN connection before logging into Netflix, irrespective of where you are you'll get access to the US version which has thousands of more films and TV shows than any other. It should be noted though that most VPN services don't always work with Netflix including the one in the video, see below for one that will.
There's lots of brilliant TV channels all over the world. Try TV stations from places like the US, Canada, Australia, Ireland and New Zealand. Almost every large TV channel broadcasts online to their domestic customers. If you select a VPN server in that particular country you can watch for free too. What's more if you're lucky enough to speak another language you'll have even more choice. For instance French speakers will find lots of French TV programmes on Canadian TV.
BBC iPlayer VPN Problems (ExpressVPN, CyberGhost)
A couple of years ago the BBC started to crack down on the practice of using VPNs to access BBC iPlayer from France and other countries. If you search online in 2022 you'll see many references and posts suggesting that VPNs no longer work with the BBC. This is partly true but to explain the current situation it's best to describe how they stopped the majority of VPN services from working.
Basically it's all about volume. Although it's extremely difficult to detect a single VPN connection (the Chinese Firewall can't even do it reliably). It's actually quite simple to detect the patterns of connection from these services. Basically if multiple connections attempt to stream from identical IP addresses and ranges concurrently then it's high likely that these are coming from a proxy or VPN.
Free VPNs Haven't Worked on BBC iPlayer for Years.
This is why 'free VPNs' were the very first to break as they had thousands of users. This made them very simple to identify and block the IP addresses from those servers. These VPNs were open to everyone and literally got swamped with thousands of users. As well as being extremely slow this made them very easy to detect and block automatically.
The only way to bypass this block is to carefully manage the number of users and outbound connections from each VPN service. Also the IP addresses on each VPN server need to be rotated routinely to avoid them being detected. This sort of management takes a lot of time and effort and unfortunately means only a few VPN services still work in 2022.
A Few VPN Services Still Work to Access UK TV
I've tested loads of VPN services, the two below are best for accessing UK TV online in France or any other country. They're both fast, and will allow you to view abroad most video channels. This includes your Sky subscription if you have an account which also surprisingly is subject to the same geo restrictions.
SmartDNSProxy – VPN and Smart DNS Service similar to that demonstrated in the video. Unlocks all UK and US media sites plus lots of others, free 14 day trial at the moment.
Nord VPN – My favorite VPN Service with the fastest UK servers I've found, plus lots of other countries. One of the only VPN services to work with US Netflix. If you want to watch the BBC and ITV player abroad, without issues and blocks then this is your best option.
Additional Information on Accessing UK TV
Here's a couple of queries I've received in the comments to this page which I though I'd add on to the post. A few asked these so it's worth repeating the advice here in case it helps anyone.
Do I Need a UK TV License for the BBC?
Whenever you start streaming from BBC iPlayer you are usually asked whether you have a valid UK TV license. It's presented as a Yes/No Option before you can start watching. If you say No you're routed through to the 'International version' of the BBC website. This has none of the streaming options or TV programmes of the main site.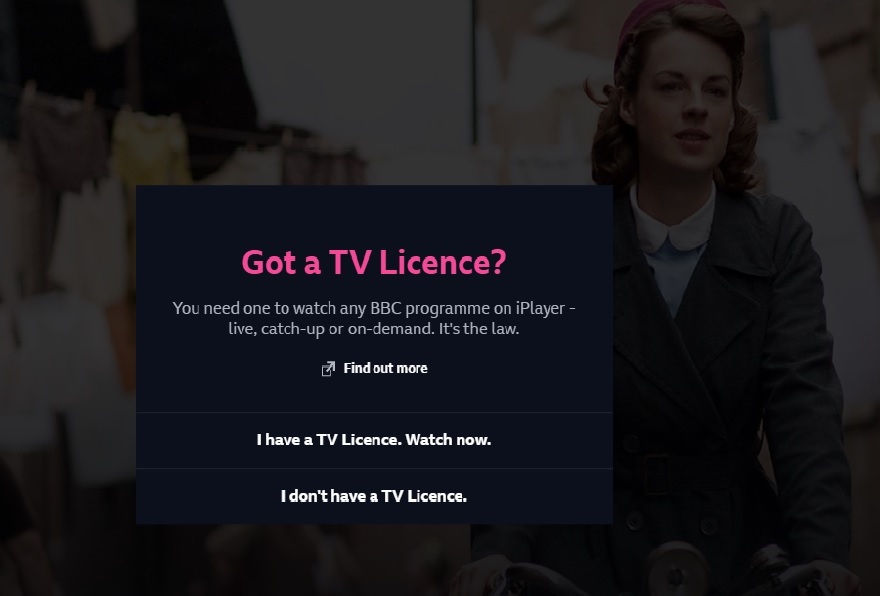 If you say Yes however then everything will work just fine. What's more it's a simple question, there's no further check or validation. So anyone can claim to have a TV licence and it will work perfectly well if you've got a decent VPN.
So no you don't need a UK TV license but you'll have to fib a little. Don't try this if you're actually in the UK as they have various methods to detect use from within the UK. There's no problem with outside the UK though especially as the VPN hides your location and identity anyway.
I Need a UK Postcode to create my BBC account – I don't have one !
Surprisingly a lot of people get stuck on this section when trying to create an BBC account. Since 2021 the BBC have required an account to use BBC iPlayer. It's completely free but you are asked a couple of questions when creating one from the registration screen, One of those questions is "What is your Postcode'? This is the UK's address locater code like the US ZIP code and is used to identify your location.
Again there's no real problem with this as you just have to supply any valid UK postal code to get passed this step. Nobody checks and any postcode will do, pick one up from any address online or pick one from here.
IS it Illegal to Use a VPN to Watch UK TV ?
VPNs have been used for many years by most major companies to allow their employees to use the internet safely. In fact most install VPNs automatically on their laptops to ensure that they are protected. There is nothing illegal about using a VPN in any normal democratic nation. There is no crime committed when accessing any TV online channel using a VPN either. What you are doing is probably breaking the terms and conditions of that site. However literally millions of people all over the world do precisely that every day !
Can I Watch UK TV in France for Free ?
Most UK TV channels such as BBC iPlayer and ITV Hub are free to watch inside the UK. If you use a VPN to hide your location you can watch for free too. Unfortunately all the VPNs that work cost something but here's one that's free for 14 days.