Here's How to Watch BBC Abroad. UK TV from anywhere with a VPN.
There are many things that we Brits like to complain about and indeed some even drive many off to build their lives in foreign climes. Yet it is at this point expats and travellers start to remember things that Britain is generally good at some things. There can be little doubt that television is right up there, we might get a lot of things wrong but the UK has a fantastic array of free to air TV stations.  At least for an English speaker, there's little that comes even close anywhere in the world to the BBC for documentaries, dramas, news and even sports when they can afford the ridiculous licensing fees.  So if you want to watch TV abroad you'll find all you need to know on this page.
UK TV Stations All Have Streaming Services
Fortunately every major British TV channel broadcasts pretty much all their programmes online. The first one was BBC iPlayer which allows you to watch all BBC TV programmes online for free. Then ITV player and 4oD were launched, followed by Demand 5 and Sky Go. So now every major UK channel has it's channel available online. Obviously the scope of these channels vary, the BBC was one of the first in the world to develop an online streaming presence so it's not surprising it's by far the most developed.
Watch UK TV Live or on-Demand
The BBC's iPlayer site is simply incredible. Not only can you stream any of it's main eleven channels live as they're broadcast. You can also access the huge archive of programmes already broadcast, indeed most things are available for twelve months after they're streamed live. As such there's an enormous archive available, for example here's a small sample of the David Attenborough documentary series that are currently available on the BBC iPlayer site.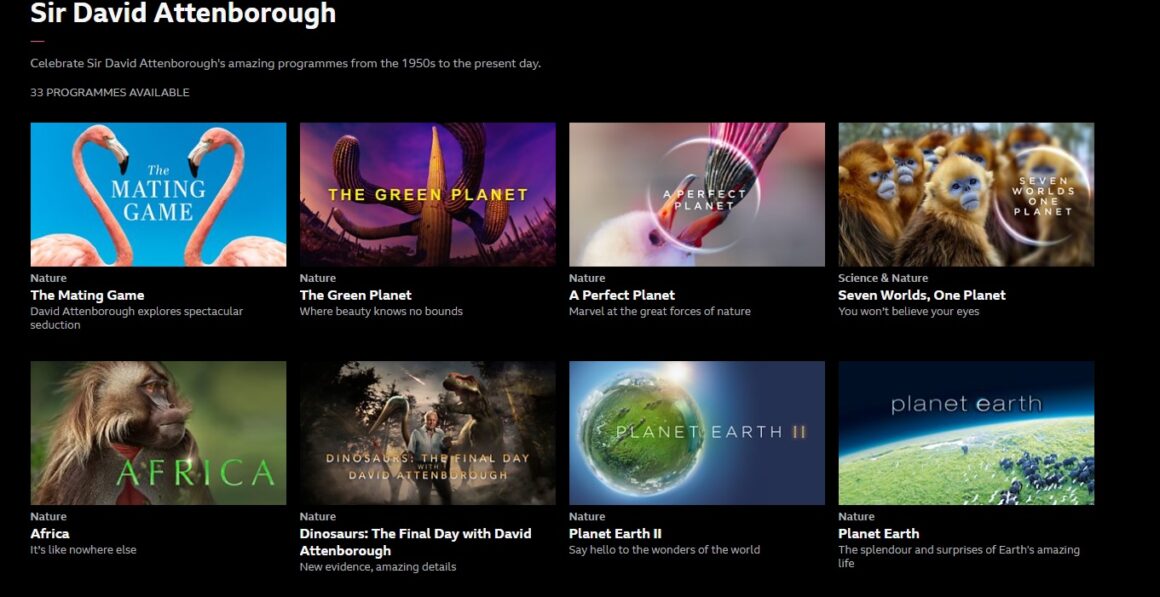 That's just the first page and remember most of those are entire series with many hour long programmes in each. It's an incredible treasure trove and far surpasses the majority of paid cable and satellite packages I've subscribed to over the years. Just on the BBC you'll find documentaries, sports, comedy drama and some of the best international news coverage anywhere on the planet.
When you include ITV Hub, All 4 and Channel 5, who all have extensive streaming sites there's enough to please anyone.
Streaming Outside the UK
Unfortunately it's not all straight forward for expats and lovers of British TV stations. The downside is that this internet content is normally only accessible when you're physically in the United Kingdom. Just like every other large media site on the internet they restrict access to streaming media to the domestic market. So as NBC and ABC restrict access to US based viewers the BBC and other UK TV channels is only accessible to UK viewers.
Doesn't really make sense to many of us ! The internet is a global communication network accessible to all, so why start putting up blocks and barriers. With regards to the media sites it's partly due to the archaic way video content is licensed, which is mainly on a per country basis. So to broadcast a film to the world you need to license it to each country individually. Clearly this is often unworkable and very expensive, so the media companies just limit access.
Obviously people were going to look for a way to bypass all these restrictions and they have !!  Personally I've been watching Match of the Day from Turkey for the last twelve years using this very method.   So fear not, you can watch UK TV abroad like millions of others from expats to Anglophiles.  Check below and enjoy the delights of the BBC iPlayer irrespective of your location – just read on.
Geotargeting and Geoblocks
With geotargeting, a company can determine the user's country or region and serve them customized content based on that information. Geoblocking is similar, but it goes one step further by blocking users from accessing a website or service altogether if they are located in a certain region.
For example, streaming services like Netflix and Hulu use geotargeting to ensure that only users in certain countries can watch their content. This is done by checking the user's IP address against a list of authorized countries. If the IP address is not from an authorized country, the user is blocked from accessing the site or service.
For example, many countries have laws that prohibit citizens from accessing pornography or gambling websites. By using geotargeting or geo-blocking, companies can ensure that these websites are inaccessible to users in those countries.
As mentioned all the British stations broadcast online, and all restrict access from outside the UK. However there's no doubt that the most popular site is the BBC and it's related application – BBC iPlayer. In fact for a lot of people that's all they use, the BBC has more than ten channels online plus thousands of archived programmes on the BBC iPlayer. You can watch virtually every programme live when it's broadcast or for a few weeks after from the archive.
How to Access Channels like iPlayer
So first you have to get passed the filter that stops anyone outside the UK from accessing the site. That's actually not quite true, no-one is completely blocked but if you try and access the BBC site from abroad, then you'll be redirected to the 'International version' which has lots of information but no programmes or access to iPlayer.  If you want to watch British TV from the USA or anywhere else you'll need to change your location.
This is how geo blocking/targeting works – simply by identifying your location by where your IP address is registered to. It's quite a simple but effective method as our IP addresses are generally assigned automatically when we connect to the internet. You can't actually change the IP address you're assigned to but you can disguise it very easily indeed.
To bypass this filter you just need to hide your location by obscuring your network address or IP address by using something called a VPN.

VPNs – An Essential Tool for all Your Devices
If you use the internet more than a few minutes a week then it's highly likely you'll benefit from using a VPN. It stands for virtual private network but despite the technical name, the modern VPN services are very simple to use. They basically enable PRIVACY online, they encrypt all your data when using the internet for anything plus they hide your location and identity from any websites you visit.
It's this second aspect which is important for bypassing the geoblocks and being able to watch TV abroad. When you connect to a VPN server your identity and location is hidden and only the VPN location is visible. Which means if you connect to a UK server then it will appear that you're in the UK. So when the BBC, ITV or any other UK site sees your IP address then it will be registered in the UK and you'll have access just like a UK resident (all completely free).
How to Watch BBC TV Abroad Online
Here's how you do this: –
As you can see using a specialised VPN service you can hide your true location and appear to be based in the United Kingdom. The BBC site records the IP address (and location) of the VPN server and not yours, which means as long as the server is based in the UK you'll have unrestricted access.
Not only that it works for all other UK only sites too, all the other UK TV channels will be accessible from their websites as long as you have a UK connection enabled. It works with other geo-restricted sites too like betting sites, banking and retailers sites which stop you buying cheaper by region locking you into a specific version.
What's more it gives you anonymity and protects your internet connection by encrypting all your communication allowing you to use insecure WiFi access points to access things like email or home banking. Most of the best VPN services allow access to a range of different servers in many countries too. This means you can access sites and TV restricted to those locations – check out the US version of Netflix or some of the fantastic media sites based in the US by connecting through a US VPN first.
Watching TV – VPN Checklist
There are quite a few of these VPN services available but you should be careful. Here's a quick checklist to check when you're shopping for the best one for you.
Speed of Connection
Cheap VPNs are often overloaded, if the server is too slow you'll find a lot of buffering which is awful to watch. Using a VPN will always have some impact on your internet connection as you're routing through an extra server.  You'll need to be extra careful if you have a slow connection to start with or are streaming to somewhere far away from the UK like Australia.  However the fastest VPN services will have minimal impact. Slow VPN servers will cripple your connection especially for media streaming.
Support for Accessing Video Sites
Good technical support is vital because the channels often tweak their filters, many VPNs get blocked if they're not configured securely. You'll need good technical support to ensure your VPN connection is running properly plus help with accessing TV and media sites. None of the VPN companies will widely advertise this aspect for obvious reasons, however most premium VPNs will assist you when required.
For example NordVPN have a selection of VPN servers specifically for accessing BBC iPlayer. This means they can carefully monitor the number who are accessing these sites to ensure they don't get blocked and rotate the IP addresses regularly.
Privacy and Discretion
This seems odd benefit to check for but a discrete VPN service which doesn't openly advertise itself as a 'TV watching' service is vital. Those that do advertise openly don't last long under legal threats of potential copyright lawsuits. Although millions of us use VPNs to bypass these blocks it's important to keep a low profile to ensure that it still works !
Reliability
– the servers should have lots of backups and be reliable. There's nothing worse than sitting down to live stream you favorite show and then finding your VPN doesn't work. There should be lots of UK servers for you to use.
Adaptability for Different Devices
It's worth checking that the VPN can be enabled on multiple devices like phones, tablets and smart TVs. Most of the best VPN services have been around for many years now and should provide all the above.  For ease of use a native application for your phone, tablet or PC is certainly preferable.
Best Country Network for TV
Many of the biggest VPN services have huge networks all over the world. However you should be careful that you have access to the locations you really need. Having VPN servers in Russia or Japan are pretty useless if you're just looking for access to English speaking TV stations for example. They are great though if your concerned about security and privacy.
For watching the BBC and UK TV abroad then obviously the priority are UK servers. Pick networks with servers in the location. However some will work better for you depending on your location so it's better to try out a short trial before committing to a subscription of any length.
Summary – How to Watch TV Abroad ?
To watch TV overseas, the first step is to purchase a VPN subscription with servers in the right country. You will then need a device that has an internet connection which can stream content from the TV sites you want.