Euro 2020 (or is it Euro 2021)  is about to get underway and football fans from across the world are ready to support their favourite teams.   The first two weeks is about the group stage before the tournament will continue on with 16 teams advancing to the knockout round.  Here the remaining teams will  be squaring off for a chance at becoming European Champions.
Most countries in the world will have their own coverage, but obviously here we'll be covering the UK TV coverage.  The great news is that every single Euro 2020 game is available on free to air channels in the United Kingdom.  These are primarily BBC and ITV although there are some regional channel coverage too for the Wales and Scotland games.
The coverage for the knockout stages hasn't been confirmed yet but here's the full UK TV schedule for the first two weeks of the Euro 2020 Championships.
Euro 2020 TV Schedule UK
[ninja_tables id="1273″]
If you are not in the UK and want to watch the Euro 2020 football championships, then this blog post is all for you. We will cover what channels these games are on in the United Kingdom as well as how to get access outside of the country.
How to watch Euro 2020 live streams for free
The BBC's coverage of the Euro 2020 football championships aims to cater for all audiences and devices, including those outside of the UK. They offer over 100 hours on TV, live streams via their website or through iPlayer and mobile apps.
There is also extensive coverage on the UK's other large TV station – ITV Hub. Free live streams can be accessed via the ITV Hub website or app. All the games will be shown on these two channels, plus the Welsh and Scottish games will be show on S4C and STV respectively.   As both these stations are 'free to air' then there's no reason at all to miss any of the games you want to watch.
BBC One Euro 2021 Official Page – European Championship – Football – BBC Sport
ITV Euro 2021 Official Page –  Watch Euro 2020 on ITV this summer | ITV Football
You'll have to create an account on both BBC iPlayer and ITV Hub to watch but these are completely free.  The accounts are generally just to keep track of preferences of what you've watched and suggest viewing options.
However unfortunately these channels only work if you're physically located in the United Kingdom.  If you try and access (even with an existing account) from anywhere else and you'll be blocked from accessing any of the live or recorded media.   Both websites look up your location from your IP address when you first visit, anything outside the United Kingdom and you'll get a message like this –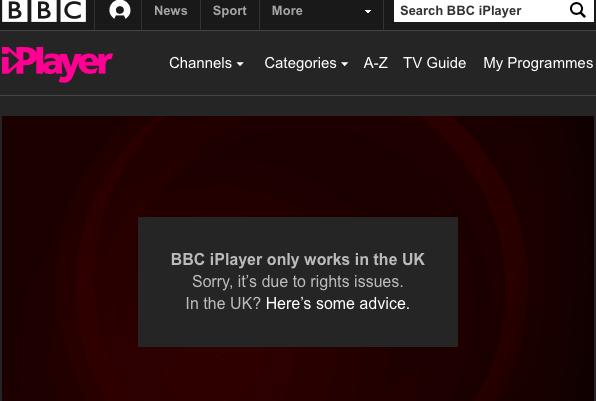 DOn't worry though, you can still enjoy all the European 2021 action from both the BBC and ITV from anywhere in the world.  You just have to 'trick' these channels into thinking your actually in the UK even when you're not.  It's not difficult to do, in fact millions of people have been enjoying all these UK TV channels all over the world for many years.
The 'trick' just involves using something called a VPN to hide your location.
How to watch Euro 2020 Live streams with a VPN
So from outside the UK, this is all you'll need to do to enjoy all the Euro 2020 action from the main British TV channels.   Just watch the video below and you'll see how easy it is to access the BBC and ITV from anywhere in the world.
Here's the VPN used above and the one we always use to watch both BBC and ITV –  NordVPN Latest Discount
This video demonstrates accessing ITV Hub, but you do exactly the same thing to access the BBC iPlayer (obviously using the BBC site). That is just enable the VPN, connect to a UK server and then watch as normal. Both the sites as mentioned require an account, but you can create those as well. You'll just need an email address and find a UK based postcode to use when creating your account. Anyone will do as long as it's valid, just grab a postcode from any address you can find online.  With this it doesn't matter where you are, you could be in France, Australia or Tibet and it will look like you're in the UK.
We should mention that when accessing the BBC iPlayer, you will also be asked if you have a TV license.  If you say yes, everything will continue as normal but if you say no you'll be denied access.  There's no test or check, so it's largely irrelevant if you have a license or not. Of course many people who are blocked will have a TV license anyway, if you're on holiday or travelling.  Hopefully one day the BBC will allow people from outisde the UK to buy a TV license too and watch legitimately!
People often ask if it's possible to use a free VPN to achieve access too.  Unfortunately this doesn't work anymore for one simple reason – so many people share the same connection they are automatically blocked and blacklisted form the site.  This actually happens to many of the paid VPNs too, as they try to put too many people on each server to reduce costs.   It makes the connections east to identify (as VPNs) and access is restricted to all inbound connections from these IP addresses.
Don't worry though plenty of the inexpensive VPNs still work fine with both the BBC iPlayer and ITV Hub which is all you need to enjoy every single game in the Euro 2020 Championship.