How to Stream Free Best British Detective Series and Shows Online
There are so many detective series out there that it can be hard to pick the best ones. Some people prefer crime dramas, while others like more humorous shows. But what if you don't have cable or live outside of the US? This blog post is here to help! We will go over some of the most popular British detective series online and tell you why they're worth your time.
Here's a few of the very best detective/crime shows from UK television. Not a complete list, but you can watch all of these online for free from the various UK online TV sites – BBC iPlayer, ITV Hub. There are many greater detectives shows on those sites too, both the BBC and ITV excel in this genre. You can watch all of the UK TV stations free of charge if you're in the United Kingdom.
If you're outside the UK just grab a simple VPN program like NordVPN and connect to a UK server before visiting the sites and they'll work perfectly. They cost a few euros/dollars a month but it's well worth it.
Here's a video showing how to watch BBC News live and you can use the same VPN to enjoy these British detective shows for nothing anywhere in the world.
Sherlock Holmes – BBC TV 2010-2017
There have been hundreds of adaptions of Sherlock Holmes over the years. For many older viewers, it's difficult to surpass the classic versions featuring Basil Rathbone from 1939 to 1945. Other prefer the 1980's adaption starring Jeremy Brett, filmed and produced by ITV. However the modern day adaption from the BBC has probably received the most critical acclaim.
Sherlock Holmes lives in early 21st century London in this modernized version of Conan Doyle's characters based on his detective plots. Benedict Cumberbatch's portrayal in the British version, although in a completely different setting still emits the calm demeanor with underlying mental issues of the original character.
It can be something of a shock for fans of the earlier versions or the books to see Sherlock with a smart phone but that soon passes. Watson is updated and portrayed brilliantly by Martin Freeman. You can currently watch all four series on BBC iPlayer for free in the UK and anywhere else if you use a VPN. There's only 13 episodes but they're all film length of about 90 minutes so there's plenty of entertainment. It's a fantastic show, and one that any detective fan will certainly enjoy.
Line of Duty – BBC TV 2012-2021
Line of Duty is a British television police procedural that began on 26 June 2012 and has aired five series so far. The programme stars Keeley Hawes, Vicky McClure, Lennie James, Gina McKee, Sean Bean and Mark Bonnar in the main cast. Line of duty revolves around anti-corruption unit AC-12's investigations of police officers who may have committed crimes.
Line of Duty starts off with the murder of a young woman called Kate Fleming in 2003, from which we see three different timelines – one involving an undercover police officer; one involving a senior detective at AC-12 named Ted Hastings and his team trying to catch those responsible for her death. There are 6 series and all of them are available on the BBC iPlayer site, currently listed for at least one year before they will be removed.
A great suspenseful show with lots of sub-plots and great acting, this is British crime drama at its finest.
Foyle's War – ITV 2002-2015
This is a British crime drama television series produced by screenwriter and author Anthony Horowitz and commissioned by ITV. It is set during and shortly after WWII.
The series stars Ben Chaplin as Benjamin Foyle, an English barrister who is called to the bar in 1940. The cast also includes Amanda Abbington and Peter Guinness.
In 1945 he meets Lucy Harker (Abbington), a secretary for Foyle's chambers while on assignment from MI-13. A great show and if you love mysteries and period dramas which ITV do so well then you'll love this.
The complete series is available on Acorn TV and Britbox but you can also watch quite a few episodes for free currently. They are streaming on ITV Hub, so you'll need to be in the UK or use a UK VPN connection to watch them for free.
Death In Paradise – BBC 2011-2018
Death in Paradise is a British television programme that was broadcast on BBC One from 2011 to 2018. It stars Ben Miller as Detective Chief Inspector Richard Poole, who transfers to Saint Marie's police force after his marriage breaks down and can't bring himself back home because he feels guilty over the death of his wife. The show has had two sequels: Death In Paradise (2015) starring Danny John-Jules and Death In Paradise – Series Three (2016), both written by Robert Thorogood."Death in Paradise" takes place completely on one island with an entirely different group of people where it follows a homicide detective solving murders; the main character operates outside of London or any other major metropolitan area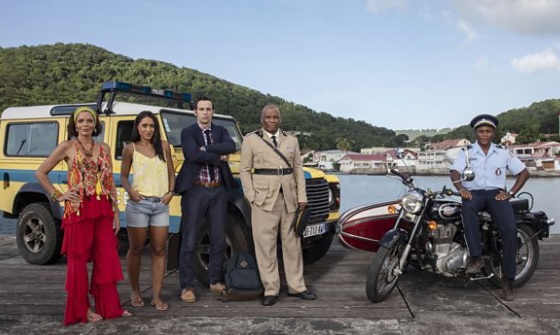 The conflict between authority figures and detectives running the investigations is an ongoing theme in the programme. It's fairly light hearted stuff though and perfect for those long winter evenings when you can dream of the Caribbean sun that shines on Saint Marie.
All ten series are currently on BBC iPlayer, so that's 80 episodes to enjoy ! Most of them are listed as available for 8 months which should ensure they'll be accessible into 2022. It's a really enjoyable show with some innovative stories and some genuinely perplexing crimes to solve!
Luther – BBC
This show is perfect if you like murder shows or Idris Elba (or both). It's a dark, disturbing story in the classic brilliant detective with character flaws genre.
The programme follows Detective Chief Inspector John Luther as he is faced with a series of seemingly unconnected, brutal murders. All the victims have been killed in different ways and they don't seem to be related at first glance. But soon, Luther notices some similarities between some of them and gradually starts to put together that these deaths may not be random after all…
Luther has an unusual relationship with his boss who hates him but still relies on his intuitions; this plays out through their interactions over the course of the show which are often entertaining! The character development throughout this season is really strong too – I particularly enjoyed seeing how each victim's story linked into one another.
Currently on BBC iPlayer you can enjoy all 5 series and they're available for 10 months at the moment.
Unforgotten
This is a new show set in Yorkshire. It begins with the investigation of two "cold" cases – one from 1992 and another more recent murder which was only just reported to the police because it had been believed that they were both suicide victims.  It's an intriguing story, very well written and compelling viewing as the investigators work out what happened using old school techniques like interviewing people who might have information they can't remember or haven't yet realised is important…
Unforgotten has a really strong cast too – Nicola Walker plays DCI Cassie Stuart beautifully while Sanjeev Bhaskar gives DS Sunil Khan some much needed personality! I also loved how not every case seemed solvable at first glance but then there would be twist or small clue appear.  You can find the latest series (series 4 of Unforgotten) on ITV Hub now. The previous three series are on Britbox and possibly other streaming platforms around the world.
Looking for More ​British detective series?
This is just a short selection focusing on the best British crime TV series and shows that are available free on various British platforms currently. You can watch all of these without payment in the UK or with a VPN anywhere else. Here's a few more suggestions in relations to some questions we've received on this site.
How the hell do people keep getting brutally slain in picturesque villages?
A recurring theme in many British crime dramas from Agatha Christie to shows like Father Brown. Probably the detective series which inspired this question though is Midsomer's Murders which is set in the beautiful, sleepy English countryside. It's famous for having an incredibly high death rate, which means that fictional Midsomer County probably has a murder rate similar to Chicago or some South American drug neighborhood.
How many times has Sherlock Holmes been filmed or reinterpreted ?
A difficult question to answer as there really have been a lot. Conan Doyle's books are popular across the world and have been translated to dozens of languages. At best guess there's something like 250-300 different versions of Sherlock Holmes across mainstream film and TV sites.
Why aren't the best British detective series like Poirot, Grantchester or Miss Marple included in this list?
There are many fine crime dramas not included here partly because we're only listing free to air shows available in 2021. Many of the Agatha Christie and older crime shows have been moved onto Britbox (UK Television official channel) mostly from ITV Hub. As such they're often removed from their original home.
You can find many of the crime dramas on different platforms too. Many appear routinely on Netflix and Amazon Prime for example and so it's worth checking out your existing digital media subscriptions to see if you can find them there. Almost all of these are to be found on Britbox if it's available near you, although it does have a subscription cost. Most will also appear periodically on the normal UK television channels for free anyway if you watch out.
Here's some more great UK detective shows to look out for –
Happy Valley – This show is about a detective trying to solve crimes, but it's just as much about the community she lives in and has to protect.
Broadchurch – David Tennant and Olivia Colman are fantastic in this dark mystery thriller. A murder sets off a series of revelations that unearths deep secrets.
Grantchester -A very popular series about a young, handsome priest who solves mysteries while ministering to the people in his community.
Marcella – is a former detective who retired to take care of her family but the pull for police work becomes too strong. It's set in London and this show deals with gritty, real-life crimes that are usually on more than just one episode.
Shetland – a TV series that follows the detectives on Scotland's far northernmost island. It always takes place in beautiful, remote locations and it deals with crimes against women who are too afraid to report incidents. The detective works closely with the local police team as well as his own family to solve these cases.
Agatha Christie Characters – Miss Marple, Hercule Poirot have been brought to the screen almost as many times as Sherlock Holmes.  Perhaps the best adaptations are from ITV and you can find them currently on Britbox and some episodes on Netflix and Amazon Prime.