Using the Internet to Watch British TV in Portugal 2022 Online
If you are in Portugal and want to watch UK TV, you might have though it's impossible. It looks easy enough at first glance, all the major British Channels like BBC iPlayer and ITV Hub have wonderful streaming sites. These websites stream all their channels live plus an enormous catch-up archive which you can use on demand. All completely free of charge!
Then reality strikes and just as you're about to sit down with a cuppa and enjoy Saturday's Match of the Day or a new drama box set – you get a message like this.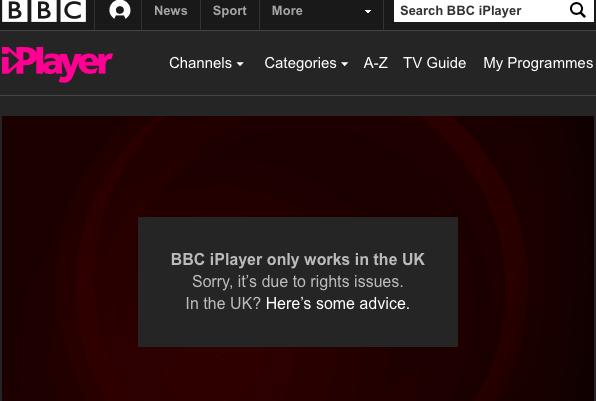 Yes, the website has identified that you're not in the UK and decided to ban you from the site. Great huh!
Steps to Stream UK TV Channels in Portugal
Of course, you probably know that millions of people are quietly ignoring this message and watching UK TV abroad. Even now on the Algarve thousands of ex pats are watching British TV quite happily.  In fact, there's people all over the world from places like Australia, France and Portugal using this method without problem for many years.
They are doing it by hiding their real location using something called a VPN (Virtual Private Network). You can do just the same, it's really not difficult.
Sign up with a VPN provider (NordVPN is great value for UK TV access)
Choose apps/software to download to your phone/tablet or PC
Launch the software or app
Choose a UK server to Connect to
Open browser and use BBC iPlayer, ITV Hub and other UK sites as normal
The sites will only see the location of your VPN server when connected. So as long as you've selected a British one then all the UK TV sites should work fine. In fact you won't be able to access some Portuguese sites until you've disconnected – it's that good.
Video Demonstration of How to Get British TV
When you start using words like VPN, IP addresses and servers the solution can seem a little technical. So perhaps many will prefer a demonstration, just watch this short video to see how simple it is.
This is for Channel 4, but it works in exactly the same way for all the UK TV channels. You're really just using the VPN server as an alias, a UK based alias which allows you access all the British TV sites. When you switch it off, your connection reverts to normal.
Watch all the UK TV Channels Anywhere
Only a couple of the VPN services have support for different devices. So, if you're intending to watch on tablets and smartphones too, then it's important to ensure your VPN supports them. Theoretically you could enable a VPN connection without custom software, however it makes it much, much easier to use than setting it up yourself.
You should also ensure that your chosen VPN supports access to these UK TV stations too. Unfortunately, many of them are blocked directly by the sites and so won't work anymore.
My favourite VPN – NordVPN does support all the British TV channels. You should ensure you use their 'optimised servers' though –
UK# 1840-1847, 1850-1863, 1865, 1869, 1873, 1875-1878, 1880-1881, 1900-1901, 1903-1904, 1911, 1913, 1917, 1919-1920.
They make sure that the IP addresses of these servers are rotated regularly and monitor the number of connections to BBC iPlayer in particularly. This ensures that the servers are not blocked or blacklisted by the site.
NordVPN Discount Page
There are a few other VPNs that work with all the UK TV channels but check carefully before subscribing. NordVPN is a good reliable option and one of the cheapest if you go for a longer subscription.
How to get British TV in Portugal
That's all there is to it. Hide your location by hiding your real IP address using a VPN. It's not difficult, expensive and don't worry it's not illegal! The perfect expat TV Portugal style. Who knows if these restrictions will stay in place in the future. Millions of people use these VPNs to watch the BBC, ITV and other channels – most would probably pay directly if they were offered the chance.
Being able to buy a UK TV license from Portugal and enjoying the BBC iPlayer completely legitimately would be great news for the ex-pat communities all over the world.
Until then, if you're asked by BBC iPlayer if you have a UK TV license then I suggest you should say yes. There's no check and if you say no, you'll get blocked!
Should also add that you can also use a UK VPN connection to watch premium subscription channels too. So yes, you can get Sky TV in Portugal again, although you still need a valid subscription to the channel in this case.
UK TV FAQ and Questions
Here's a few questions I have received on this site through comments and messages. Thought I would add them to this post in case anybody is interested.
Can You Watch ITV Hub in Portugal
Absolutely, just connect to a UK VPN server before you visit the ITV site or open the application.  You'll need to set up a free account on ITV Hub (use a valid UK postcode) and any email address.
What Size Dish Do I Need?
None whatsoever, honestly watching TV online is much easier and cheaper than messing around with cable and satellite plans.
Yes, works on my TV how can I watch on my TV?
Depends on your TV really but the easiest way is to connect a simple HDMI cable from your laptop/PC to the television.  Just connect on the laptop and you'll see BBC iPlayer on your TV screen!
Can I watch UK TV Live in Portugal as well as the archive stuff?
Yes, when you use a UK VPN service you can access all the features on BBC iPlayer including all the live broadcasts. Remember the time difference though.
How long have you been using a VPN solution to watch BBC iPlayer?
I think it's about twelve years now when I was living in Turkey. I used to use a VPN called Identity Cloaker which still works great but only has a PC version. I switched to NordVPN as I wanted to watch on my smartphone, and they have an app for the client software.
Do I Need a UK TV licence?
When you stream from the BBC then you will be asked sometimes if you have a UK TV license. Of course, you can't actually buy one outside the UK. There's no checks though so just say yes, and it will all work fine.
Someone Said I Need a UK postal address to setup an account?
Both the BBC iPlayer and ITV Hub will currently ask you for a UK postcode when you set up an account. Don't worry though you can input any valid UK post code and it will work fine – pick one you know or lookup on online.