BBC VPN Block Workaround 2022 iPlayer Update
THE BBC has blocked all VPNs from accessing BBC iPlayer. The workaround used by millions of people to watch the BBC from outside the UK no longer works !
I heard this rumour in a small bar in the Turkish town of Fethiye last weekend. It caused some initial worry, especially as the bar was largely full of British expats who are found in large numbers all along the south west coast of Turkey.
Internet Rumours About VPN Block
For someone like myself who has spent the best part of the last decade trying to find the best VPN for watching BBC iPlayer abroad, these rumours are always worrying.  Fortunately this particular one has been going around for a few years now, and although not entirely without some merit is not exactly true.
However, it is true, that about two years ago the BBC started looking very seriously at the numbers of people who are now watching the BBC iPlayer and the live channels from outside the UK. We're not talking about a few thousand clever technical geeks using complicated workaround. No there are literally millions of people using a VPN to watch from all over the world.
The BBC Workaround Service is Truly Global !
I visited a small out of the way, run down coffee shop in Alexandria last year and there were fifty plus Egyptians enjoying Match of the Day with their coffee and shisha. Their solution cost pennies and was a laptop with a VPN to access BBC iPlayer plugged into a normal TV! It was honestly great to see even if they were slightly bending the BBC's terms and conditions and probably didn't own a TV license.
The VPN services that are available now are so easy to use that anyone can set one up, click a button and be watching the BBC and all the other UK TV channels from anywhere in the world. The reality is that millions of people were doing this from all over the planet, many estimates suggest that there were more people watching the BBC from outside the UK than within it! As long as they have a servers in the UK to connect to then anyone used to be able to access BBC from anywhere in the world. It wasn't difficult or expensive to do.
BBC Offers a Free Streaming Service for Tough Times
Indeed, there are families all over the place who's prime entertainment package revolves around the BBC. It makes sense when you see the depth and quality of programmes available, why pay for expensive cable subscriptions when you can get all sorts of programmes from the BBC for the price of a simple VPN service. What's more the best VPN services and Smart DNS also opened up free broadcasting from lots of other sources too. In the UK there are a host of other channels like ITV, Channels 4 and 5 all available for free. However, you could even watch US, Canadian and Australian broadcasts too by connecting through other countries rather than the UK servers.  Plus if you could speak other languages there were even more options as well.
VPNs Not Easy to Detect
The BBC is under financial pressure and with their own paid streaming services such as Britbox have obviously wanted to limit these outside UK viewers. They had already previously blocked the use of simple proxies which at least meant that all free versions of circumvention were closed. However preventing VPN access is somewhat more challenging as a VPN connection is much harder to identify than a proxy connection. Indeed it's actually very difficult and even the Chinese who throw huge amounts of resources at blocking the use of VPNs haven't managed it completely. The BBC decided to take a pragmatic approach in trying to 'thin the herd' somewhat.
It's Not True that the BBC iPlayer Blocks all VPN !
Before we explain how it's done, first here's the proof that you can still use a VPN to watch the BBC.
VPN Server Connections to BBC Still Work in 2022
This video was actually recorded after all these rumours started spreading which was at the end of 2019. They've been circulating that long ! You can hopefully see in the demonstration that there is no issues to unblock BBC iPlayer with the VPN. Now in 2022 it's still working perfectly well and you can watch all UK TV abroad using the same method too. I have been using the same VPN for many years – NordVPN.  The rumours still are around of course, many of them being spread from discussion forums and posts from years ago.  So where do these rumours come from and is there really a problem using VPN providers to watch
BBC iPlayer Access Depends on the IP Addresses
Many thousands of people did lose their access through and still do although less infrequently recently. What happened was that although the BBC wasn't able to reliably identify the use of VPNs it was able to make educated guesses. For example, if they saw thousands of people connecting through the same IP address concurrently over a period of time then it was very likely it was the IP address of a VPN server. UK users would generally have their own individual address, so there was a high probability that it was non-UK users from Spain or France for example who were connecting.
BBC Creates IP Blacklist for VPNs
When an IP address was highlighted it's relatively simple to just add it to a blacklist and block access for anyone using it. What's more many of these addresses were in specific ranges so in fact lots of them could be blocked en mass. The other tactic was to actually identify the many companies who were actively promoting VPN to watch TV from. Some even had BBC logos plastered all over their websites. A few legal letters would follow and the company would either close down or be kicked off their hosting servers.
These methods although not perfect were pursued pretty aggressively by the BBC for at least twelve months and to a lesser extent since. The result was that hundreds of TV watching VPN services were disconnected most of which then closed down. This led to the false claims by many that all VPN services were now blocked, and it was no longer a viable method for watching the BBC abroad.
BBC VPN Purge – the Survivors
Fortunately the massive effort required to identify and block these services wasn't maintained completely. Although the BBC still actively pursue these services they mainly look at those which overly promote or advertise openly on things like Google Adwords. Most of the long term companies in this industry keep a low profile and never directly refer to the ability to watch specific TV stations.
Limit Concurrent Users on Servers
The problem with blocks of IP addresses being identified and blocked can be solved simply by routinely rotating them from the servers. Also ensuring too many people don't connect with the same address at the same time. This is not necessary with many streaming services but the ones like the BBC it's pretty much essential. It's a lot of work on both sides which is why you need decent customer support on the VPN provider you use.
It's often described as a digital game of 'Whack a Mole' where the BBC tries to block the addresses from simultaneous connections and then the streaming servers rotated out to another UK IP address.  Not all VPN services will keep up this effort so it's good to check before you subscribe or at least ensure that there's a money back guarantee if it doesn't work.  rest assured though if you pick the right VPN then the BBC VPN Workaround is not completely blocked.
Carry on Streaming from the iPlayer Server !
Most of the largest VPN services who have the sort of infrastructure (including thousands of addresses) should continue to support access to sites like the BBC.  Switching addresses and securing the fastest VPN component so that the websites don't detect them by flaws like a DNS leak is important too. This should mean there's always an option to stream BBC iPlayer, ITV Hub and the other UK TV sites.  Also, maybe one day perhaps the BBC will allow us to purchase an overseas license so you can gain access to all the iPlayer content more legitimately.
Create a BBC iPlayer Account
You do now have to sign up for an iPlayer account but there's no problem with this. You can use any email account and select any UK Postal code (like the US Zip Code) as long as it's valid, the account is only used to track what you've watched and suggest programmes you might like. Connections can come from all sorts of devices so spotting a VPN app is not going to get any easier. I would think the best providers should ensure that we're able to watch BBC iPlayer from abroad for a very long time.
UK TV License Requirement
Another basis for these 'BBC Blocked' rumours is that you now need a UK TV licence in order to watch the BBC online. Although this is true in the UK where it's a legal requirement enforced through fines. There's no law anywhere else apart from the BBC's own terms and conditions.
What does happen is that you're presented with this screen when trying to stream anything or access the site.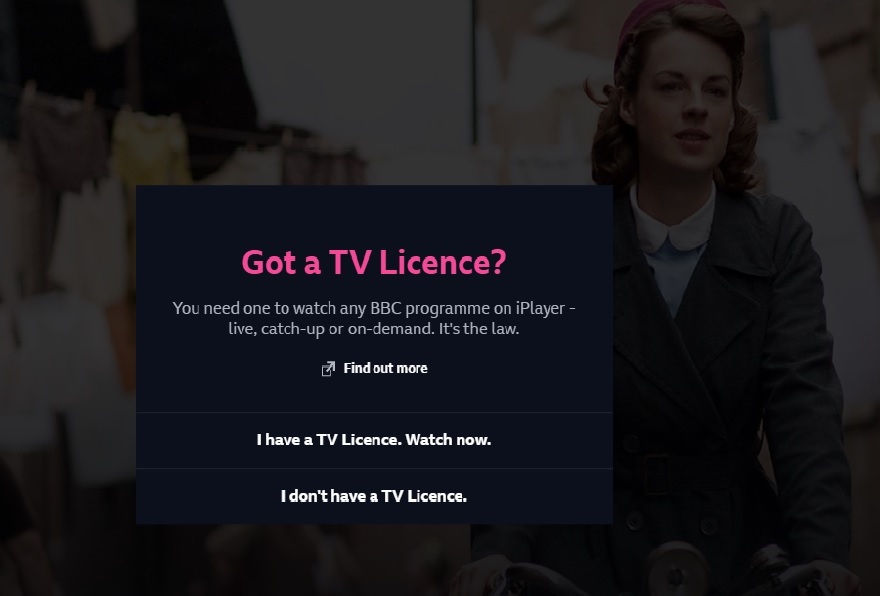 It just asks you if you have a TV license or not. There's no check, you won't be asked for a number or any other validation. Basically, if you click 'I have a TV Licence' everything will work perfectly if your UK VPN connection is enabled.
VPN is a Long Term Workaround for BBC Site
So, VPN services still can work perfectly well to bypass the BBC's content restrictions as long as you pick a decent service with fast speeds and security. You will hear lots of people stating that BBC iPlayer not working but it's normally simply the address.  As long as a service has alternatives then you should be fine. What's more they still work for all the other UK TV channels too including ITV Hub which is well worth watching too.  Plus, the premium channels like Sky, Now and BT although you will need a valid subscription too.
There are several VPN services which have been working for many years and there's no expectation that this will change in the foreseeable future.
Here's my recommendation which I have been using now for many years
Additional Reading